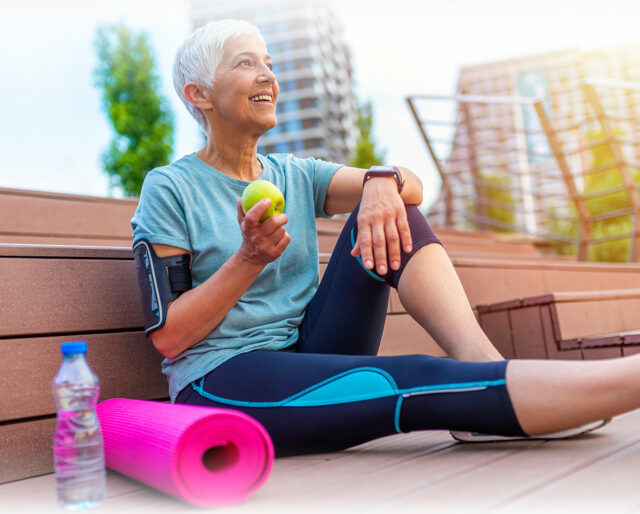 2023 is roughly 2 months away. When it comes to new year's resolutions, 'eating healthy' and 'staying fit' are two of the most popular ones, sometimes at the top of the list. Every year, we strive to do better than the previous year, particularly when it comes to taking care of our bodies and our health. With the increased emphasis on health, it is more important than ever to make and keep those healthy resolutions.
So, if you've decided that 2023 will be the year you change your habits and start living a healthier life, good for you! Here are some tips to staying healthy for your goals in 2023, whether it's setting more realistic and achievable goals or making small dietary changes.
'Healthy Lifestyle' is not a cup of tea that you can reheat and reuse, nor is it a stroll through the park, but keep in mind one quote by Debasish Mridha that we will remember this new year. "If there are no barriers to cross or demons to slay in the journey to reach your desired destination, how can you call it a success?"
To stay healthy and strong, you must create a comprehensive diet plan. However, most people believe that doing or implementing this is extremely difficult. When you consider the various workout schedules and your working timeline, it may seem impossible. A healthy living strategy includes a smart plan as well; you just need to focus on why you want to embark on this journey.
Thus, we'll share what can change and shape your future. 
Check out these amazing tips to staying healthy in 2023
1. Have a plan.
A goal without a plan is just a wish, so no matter how busy you are or how tough your timetable is, a healthy living strategy should be on your to-do list at least thrice a week.
Thus, start making a plan. It doesn't have to go by the book. You can focus on small things that can help you stay fit. For example, start an early morning walking regime.
Put along some strong water intake, make food that can be easily cooked and is high with important vitamins.
2. Be physically active.
Try to stay physically active for at least 30 minutes on most days of the week. When you're short on time, divide this into three sessions,10 minutes each . Walking, running, sporting activities, dancing, yoga, and other activities that you enjoy are all examples of healthy movement.
3. Do not skip breakfast.
Breakfast is the most important meal of the day, so skipping it is a no-no. Your body requires fuel to prepare for the day ahead, so instead of skipping breakfast, make it one of the most nutritious meals you consume during the day. Furthermore, eating a healthy breakfast keeps you from craving unhealthy snacks throughout the day. Oatmeal, eggs, toast, and other healthy breakfast options are examples.
Also Read: eat this to lose weight (up to 20+ pounds in one month)
4. Consume less sugar!
Avoid sweet foods and beverages like chocolate. Reduce your daily cup count if you are unable to. There are numerous options; all you need to do is maintain consistency in your actions and methods. Start using sugar replacements or cut it out altogether.
If you often consume tea or coffee, start by cutting back on the sugar. Select honey in its place, or better yet, altogether change your intake schedule.
5. Drink more water.
Always remember to drink plenty of water. By consuming enough water, you can flush out those toxins, speed up your metabolism, and maintain a feeling of fullness. More water should be consumed than usual. It is better to drink at least 8 glasses of water, but more is even better. Water should be your main beverage of choice.
Artificial juices should be avoided when following a liquid diet. Make smoothies, fruit drinks, etc. in their place.
6. Eat more vegetables and fruits.
Ensure that there are enough vegetables on your plate. Vegetables are a vital component of a healthy diet since they are abundant in fiber, vitamins, and other elements. In addition, most vegetables are low in fat and calories, so they'll support your efforts to maintain a balanced diet.
By eating more fruits and veggies, you may maintain your weight while simultaneously staying active. These foods are the greatest for a healthy lifestyle strategy. You can have a salad every four hours and combine fresh vegetables with your fruits. Energy, vitamins, and minerals will all work together.
Also read: how to clear acne and dark spots at home
7. Eat more home-made meals.
Sometimes eating meals prepared by restaurants is okay. But concentrate on eating home-made meals if you want to eat well and stay healthy. You can always be sure that whatever you're eating is both safer and healthier than a meal that is prepared outside the home because they don't include artificial flavors or colors, and every component that goes into a home-made meal is thoroughly washed.
8. Exercise regularly.
Exercise is obviously important for leading a healthy lifestyle. It's insufficient to just concentrate on your diet. It's crucial to balance it out with a sound exercise program.
Get some type of exercise every day to stay active and healthy, whether it's a fast cardio session at home or a 30-minute walk around the neighborhood.
9. Avoid smoking.
Don't smoke, or stop if you already do. Obtain assistance from your healthcare provider. For smokers seeking to stop, UCSF provides workshops on relapse prevention and smoking cessation as well as doctor consultations.
10. Reduce alcohol intake.
If you do consume alcohol, do it in moderation. Never drink before a trip, behind the wheel, or while pregnant. If you believe you may have an alcohol addiction, ask someone you can trust for assistance.
11. Take precautions.
By using smoke and carbon monoxide detectors in the home, wearing seatbelts and bike helmets, and exercising caution when walking alone, one can prevent injury. Be aware of the risks associated with keeping a gun in your home if you own one. Always take safety precautions.
12. Use condoms.
When having sex, use condoms to help prevent HIV/AIDS and sexually transmitted infections (STIs). Since condoms are not completely reliable, talk to your provider about
STI screening. You won't be protected from STIs or HIV by birth control methods other than condoms, such as pills and implants.
13. Be hygienic.
After meals, use a toothbrush with soft or medium bristles to brush your teeth. Additionally, wash your teeth before bed and after drinking. Every day, floss your teeth. A daily shower is fine for most people, according to several doctors (more than that could start to cause skin problems).
To maintain good health, however, two to three times per week is frequently sufficient and may even be preferable for many people. It partially relies on your way of life. Also, washing your hands frequently is one of the best strategies to avoid getting sick.
You can stay healthy and stop the spread of respiratory and diarrheal illnesses by washing your hands frequently. Washing your hands frequently, especially during these periods when you are most prone to catch and spread germs, will help you stay healthy.
14. Use sunscreen and sunglasses.
Use a broad spectrum sunscreen with a sun protection factor (SPF) of 15 or higher that offers protection from UVA and UVB rays. Choose sunglasses that completely or nearly completely block the sun's rays.
"Good health is not something we can buy. However it can be an extremely valuable savings account." – Anne Wilson Schaef. Everyone is aware that maintaining good  health requires a balanced diet, regular exercise, and plenty of rest.
However, things are easier said than done, and you might not be eager to put these tips into practice but remember that nothing worthwhile comes easily, and you must put in a good amount of work to achieve your goals.