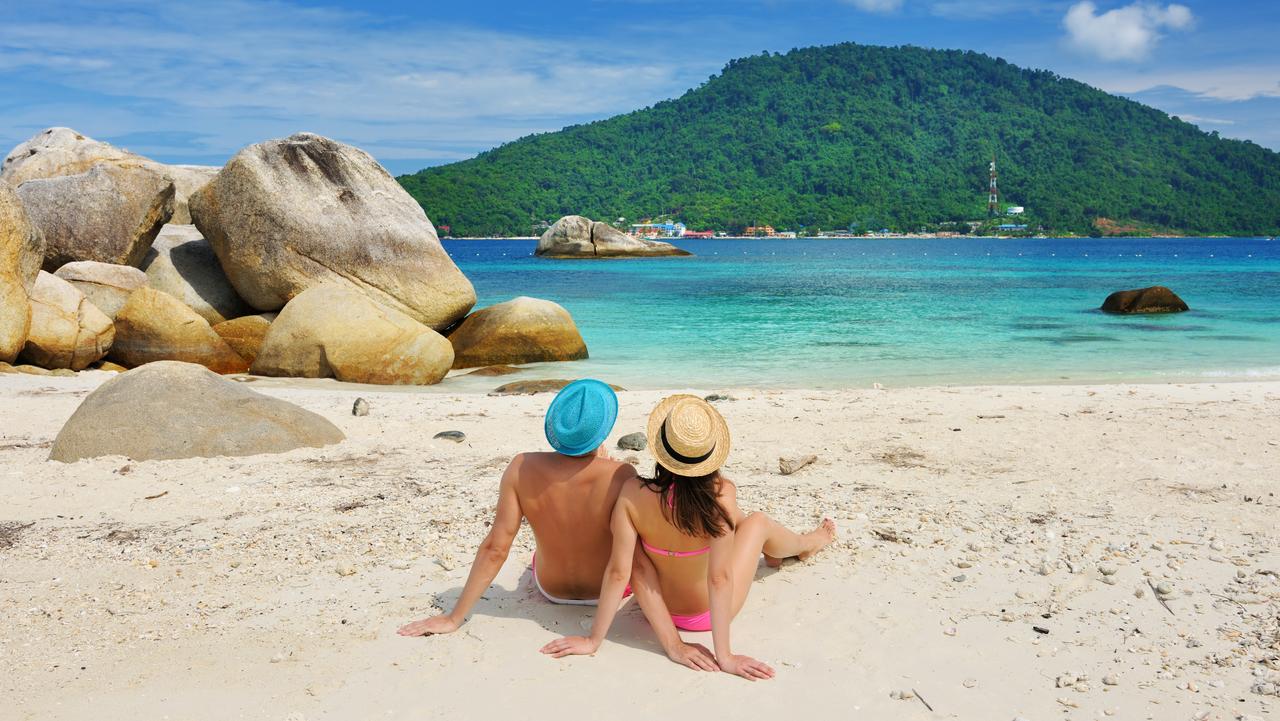 Do you want to make your relationship more exciting? it's time to leave the city!
We live on a vast planet. It can be challenging to decide on a romantic location for your upcoming vacation. When selecting a destination for a trip with your partner, think about the elements of a romantic getaway that are most important to you, from intriguing attractions and daring activities to cosy settings and breathtaking views.
There is a tonne of romantic locations where couples can travel. However, there are 15 incredible locations that we simply adore and believe to be the top vacation spots for couples in the world.
1. Istanbul, Turkey
Istanbul, the capital of Turkey, is an awesome vacation spot for honeymooners. This is the only city on earth to cross two continents. Practically everything about it is so exquisite that one cannot help but praise the distinctive aesthetic of this city.
The city's markets are constantly bustling. They are a terrific location to barter for anything from tea to Turkish rugs.
The best dining options are those that are outdoors. Turkey's food is generally really delectable, albeit some of it isn't for the faint-hearted. Sandwiches are well-known at places like Mangerie, and classic grilled fish is popular at the Abracadabra.
Explore Angelique, a gorgeous beachside club, if you and your partner want to go out for the evening.
The city is home to several incredibly magnificent hotels with stunning settings. One of such luxurious hotel, Swissotel The Bosphorus Istanbul, is the perfect place to stay for a romantic getaway or honeymoon.
2. Maui, Hawaii
One of Hawaii's most breathtaking locations, Maui is a must-visit vacation spot for couples of all ages. It offers a variety of unusual sports, such as hiking, surfing, and snorkeling. There are beautiful beaches where you can spend the entire day relaxing.
Compared to the other Hawaiian islands, Maui offers the most gorgeous flora, the cleanest beaches, and the calmest waters for swimming. Arrange a breathtaking helicopter flight above the island for a special occasion. The more difficult-to-access sections of the island will also be visible to you.
3. Granada, Spain
Granada, a city in Spain, is renowned as one of the greatest vacation spots in the world and is great for romantic couples. Given that this historic city was established in the eighth century, its structural feel of antiquity makes sense. The local streets are perfect for strolling while enjoying the scenery hand-in-hand with your ride-or-die.
Along with having some of the best cuisines in the world, the city is also a terrific place to go shopping, especially for crafts, jewelery, tiles, and furniture. Buy presents for one another!
4. Santorini, Greece
Santorini is a favourite choice for newlyweds looking for an amazing honeymoon location. It is a cloud-like refuge that immerses visitors in an ethereal illusion. The island's romance very much sells itself.
When you explore the hilly, worn streets, you're surrounded by bright white buildings and blue roofs. In the evenings, you have prime viewing spots for breathtaking sunsets. When the sun sets, the city is illuminated, and the buildings—including homes, churches, and dining establishments—glow brilliantly.
Also read: how to overcome an addiction and feel better about yourself
5. Northern Norway
If you've ever thought of stargazing as a romantic activity, northern Norway certainly ups the ante with its incredible sky phenomena. From late autumn to mid-April, this area, which makes up about one-third of Norway, is regarded as one of the best places to see the northern lights. From May to July, however, a phenomenon known as the "midnight sun" causes the sun to remain visible until late at night.
Travelers who dare can experience 24-hour daylight from April to August in Svalbard, the northernmost inhabited region of Europe. On the other end of the spectrum, Svalbard experiences "polar nights" in January and February, when the night lasts for roughly 24 hours and the aurora borealis is especially visible.
Definitely deserves its spot on top vacation spots for couples.
Be warned: Taking this journey together will make stargazing in your backyard become less romantic!
6. Patmos, Greece
The Greek island of Patmos is just 14 square miles in size. This little sanctuary is only accessible by boat. Despite that, the beauty and history of this lovely island will just astound you.
Of all the Greek islands, Patmos is undoubtedly the most unique because of its intricate courtyards, chapels, the towering Fortress Monastery of St. John, and its shining white-painted homes. Today, several of these homes serve as hotels for tourists.
Diakofti Beach is one of the finest beaches in Patmos.
You may sample the island's well-known fried zucchini balls and go to the Benetos for some of the island's best fish.
7. Seychelles
Not only is Seychelles a picture-perfect location, but it's also one of the most romantic places on earth. An exquisite setting for beautiful Instagram images. It is made up of volcanic boulders, lush forests, and crystal-clear waterways.
You may stroll around the islands with a loved one to take in the picturesque scenery. For those looking to go as far away from the grind as possible, Seychelles is one of the greatest couple holiday destinations.
8. Buenos Aires, Argentina
You and your significant other won't run out of things to do in Argentina's thriving capital. There is an abundance of live entertainment and the variety of restaurants and pubs. La Boca is a lively neighbourhood famed for Tango dance and a pedestrian promenade dotted with handmade items and homes and businesses painted in vivid primary colours. It is a great place for a day-to-night date.
9. Paris, France
Paris is one of the most romantic places in the world, so any list of the greatest getaways for couples must include it!
It is not only one of the most gorgeous cities in France (and Europe), but it also offers something for every couple to enjoy. From delectable cuisine to culture, thrilling attractions, and stunning views. Every couple should go there together at least once in their lifetime. It radiates romance everywhere!
Whatever the occasion, there are countless romantic activities to do in Paris that will make your trip worthwhile. The Wall of Love in Montmartre, the Eiffel Tower, and the Luxembourg Gardens are a few of the city's most seductive locations. It's also essential to sample as much of the regional cuisine as you can since Paris is a haven for foodies. Pick a few adorable neighbourhood cafes, then unwind with a croissant and coffee as the Parisians do.
Also read: 8 of the world's most beautiful beaches you must see
10. Osa Peninsula, Costa Rica
You guys have to come here, even just once! Experience some of the best jungles and wildlife diversity in the world.
Although it can be tough to get to the Osa Peninsula in Costa Rica, it is worth the effort. The memories you'll create while exploring this breathtaking location with one other will last a lifetime.
The Luna Lodge offers wonderful tents and bungalows where you may stay in this nearly ethereal location and drift off to sleep to the sounds of the jungle. The Lodge's biggest feature is its location right next to the spectacular fauna of Costa Rica's Corcovado National Park.
11. Bora Bora, French Polynesia
Boasting palm-fringed islets, majestic mountains, turquoise lagoons, and ultra-luxurious resorts with overwater bungalows, Bora Bora is a group of volcanic islands and atolls in the South Pacific. Paradise is what it is.
In Bora Bora, the main draws are scuba diving and snorkelling. Shark snorkelling is an option if you're feeling daring. This exhilarating hobby is a fantastic way to create new memories and get amazing photos.
Alternatively, you might spend the day relaxing on Matira Beach's sand and taking in the scenery. Bora Bora is perfect for couples seeking stunning scenery and a private escape.
12. Hoi An, Vietnam
One of the most beautiful cities in Vietnam is without a doubt Hoi An. Due to its breathtaking coastline, which includes China Beach and the Cua Dai, it is primarily known for its beach culture. Travelling around Hoi An is best done on foot. The streets are lined with fantastic cafes, art galleries, and silk shops.
Hoi An is Saville Row for Vietnam. The number of clothing stores here is staggering. Many tailors in this city can sew together a full outfit of your choices, in any style and using any material of your choice, in less than 24 hours. You pay Topshop money for a suit of Armani calibre or a dress in the Gucci fashion. You can buy new clothes for yourself for pennies if you stay here for a week!
The Nam Hai hotel, which faces the beach, is the best place for you to stay. When it comes to food, you must taste the delectable steamed seabass that is prepared in the style of a banana leaf.
13. Colchagua Valley, Chile
The Colchagua valley, located in central Chile north of Santiago, is well known for its stunning vineyards. Along with Napa Valley, New Zealand, and Australia, Chile is one of the most renowned producers of "New World Wine." If you and your significant other like a good glass of wine, look no further.
There are over 30 wineries in this South American valley, including the renowned Emiliana Organico. Another stunning winery in the valley, Clos Apalta is encircled by a forested slope.
The Lapostolle Residence is great for couples because it provides lovely furnishings and great dining. The Asador del Valle, known for its succulent roast lamb, is another place foodies should visit.
14. Isle of Skye, Scotland
The Isle of Skye is a unique venue for a romantic retreat for couples looking for a trip with a twist. Imagine a location with untouched wilderness, mediaeval castles just waiting to be discovered, and a stunning landscape. On the Isle of Skye, there are a variety of activities to enjoy, such as witnessing the Northern Lights, which are only visible in the winter.
If you like to be more active, you can spend your free time hiking on the Isle of Skye. Grab a drink at a neighboUrhood pub afterwards. A romantic road trip full of adventure would be especially great there.
15. Venice, Italy
Venice is the ideal honeymoon destination because it is a city of dreams. Given that it is sinking quickly, you should go soon!
It is frequently referred to be the most romantic in the entire world. You can spend days exploring this city and gliding around its canals on one of its renowned black gondolas.
Venice, an artificial island metropolis, appeals to a wide range of people, but foodies and history aficionados will especially enjoy it.
A vintage hotel with views of the Venetian Lagoon, Hotel Danieli is a great choice for travelers looking for a distinctive location to stay.
Final Words
Traveling with your companion is one of the finest ways to spend uninterrupted alone time while seeing new places. A journey with your significant other usually always ensures sharing fascinating experiences. Whether the destination is domestic or abroad, you discover new things about each other.
When you share a lot of firsts together, it's simple to see facets of your spouse and perhaps even of yourself that you hadn't noticed before. Couples can also experience a different kind of connection when traveling than they would in daily life.
We hope that at least one of these vacation spots for couples make it to your itinerary. Enjoy!