Source: Unsplash
Undoubtedly, being in a beautiful environment improves our mood and productivity. But did you know that a well-designed office space can impact your business's success? Learning how to decorate an office properly can significantly impact your business.
The most productive offices balance home comforts and a professional business image. But on the other hand, a stylish setting full of color, life, and inspiration leads to a happy, healthy work environment where your team members can thrive.
Your office design ideas should reflect your company's values to make everyone feel good at work. In addition, you don't want people entering the office with a negative first impression because the office design needs to be updated.
Keep reading to get amazing office design ideas.
Why Is Office Decor Important?
Employees' attitudes can be greatly influenced by office decor. The way an office looks and feels can motivate employees and improve their moods. Because a well-decorated office is about much more than looks.
The combination of aesthetics and utility determines whether or not an employee is excited to go to work. A well-equipped office has a positive impact on employee productivity and recruitment.
This is why having a diverse set of office decor ideas is essential.
8 Corporate Office Design Ideas For Work Office
Without further ado, indulge in the amazing office design ideas below;
Display large works of art.
Hanging art can make your workspace more interesting, thoughtful, and spacious if you're looking for great small office decor ideas. Keep it simple with black and white wall hangings, or go bold with vibrant, eye-catching works that will brighten your day every time you pass by.
Canvas prints on the walls of your office can be a beautiful expression of art that represents the heart and mind of your company.
Also Read: Websites That Pay You $$ To Do The Bare Minimum
Display Company Vision And Mission Statements
Source: Unsplash
A company's office decor should reflect the company itself. It should reflect the values of the organization. The best way to accomplish this is to prominently display the company's vision and mission on its walls.
The displayed vision will remind your employees of the company's foundation and motivate them to achieve more. 
Play With Colors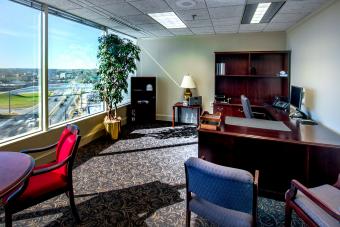 When it comes to office space design, the color scheme is crucial. You should avoid using too many different colors here. We recommend that you stick to your brand's colors.
It will create a beautiful flow for the company and its office space. Also, if you want to make your office more colorful, don't use too many different types. Using a variety of color combinations on a single wall is a huge mistake.
Instead, you use specific color schemes for the walls, ceilings, floors, etc. Pay close attention to the psychological impact of different colors and their meaning in this context. For example, shades of red, blue, yellow, green, purple, orange, and grey are ideal for an office setting.
Sculpture of a Company Logo
A company logo sculpture in the middle of the office grounds is also a great way to carry the company tone throughout the workspace. It beautifully represents your brand's personality and can also be a lovely conversation starter.
For instance, what is the story behind the logo, and what does the logo represent? e.t.c. It is purely decorative, but if used correctly, it can also serve as an excellent marketing tool.
Also Read: How To Do Affiliate Marketing Without A Website
Inventive Furniture
Office furniture is an important part of any workspace. It is subjected to daily use, so it must be dependable. The furniture must also be interesting.
Today's market is brimming with durable yet stylish office furniture for you to choose from. Today's selection of couches, chairs, tables, and computer desks is astounding. It will not be difficult for you to choose from such a large selection.
Motivation Statements
Source: Unsplash
You never know the side of the bed someone wakes up on. Many times, employees push themselves to the office to just get work done. Adding motivational statements in form of frames or wall paintings, together with awesome office aesthetics is a great way to boost the mental health of employees.
This not only boosts their mood, but it also increases their drive to show up and boosts overall productivity too!
Paintings, Paintings, Paintings
Paintings can be a great value if you are looking for office decor on a budget. They are inexpensive, take up less space, and add a nice touch to a room. Most office spaces feature these paintings in elegant black and white.
These capture the corporate environment in a classy minimalistic way that is easy on the eyes. Alternatively, you can go bold with colorful art to demonstrate a young and vibrant office environment. Your imagination is the only thing that limits your options.
Adorn With Plants and Flowers
Source: Unsplash
In your office, live plants and flowers make you happier, more productive, and less stressed. Plants improve productivity and always put a smile on everyone's face.
Adding plants and flowers to a workspace can give it a more natural feel. Potted plants and flowers can be used to naturally separate spaces and improve the air quality in the office.
A small plant on each team member's desk goes a long way. Adding plants to an indoor space creates a sense of natural coziness while also helping to purify the air. It also gives the office a unified appearance.
Most plants need adequate sunlight and water to thrive. If your office doesn't get a lot of natural light, get a plant that doesn't require a lot of natural light to thrive.
Succulents, Peace Lily, Dracaena, Ficus Benjamina, Sansevieria, Aglaonema, cactus, bamboo, Devil's Ivy, and other plants can be used in your office.
Flowers also add fragrance to the atmosphere and provide natural beauty. So you should try them.
There you have it. Check out these office designs for home workspaces;
5 Unique Office Design Ideas for Home Workspace
So far, we've discussed corporate office spaces. What about houses that have an entire room dedicated to a home office?
Or small city houses that do not have that kind of space? Here are a few home office setup ideas that will take up less space in your home while still looking stunning.
Creative Office Nook
Source- Pinterest
Are you looking for some interesting small home office ideas? If so, the Clever Office Nook concept could be your ideal home office setup. To make a cute home office, you only need a small nook beside your cabinet or window area.
It is a strong contender for low-cost work-from-home stations. A comfortable chair and a reading lamp are all you need.
Tips for this Space Utilization: 
Make sure you stick to the fundamentals

. Try to keep the design and flow as simple as possible.

Improve Your Appearance:

You can improve the desk's appearance by sticking postcards, pictures, and other small items.

Colors:

Avoid using large pops of color, as you may end up looking like a matchbox. Choose lighter shades or keep it natural, even with mild accent colors.
Home Office Floating Shelf
If you don't have a separate space or room for your home office, No worries. You can create space out of thin air. All you need is a dream and your imagination. A floating shelf home office is one such unique office room idea.
You will only need some organizers to organize your belongings and be ready to go. These requirements are a slew of floating shelves, minimal color, and a long table that can also serve as a hobby table.
Tips for Getting the Floating Shelf Office Color: 
Choose neutral tones with a few soft pops of color.

Storage:

Keep items in bins, shelves, and folders to avoid cluttering the space.

Lighting:

Install led bulbs beneath the shelves to create a warm and inviting atmosphere.
Library Style Office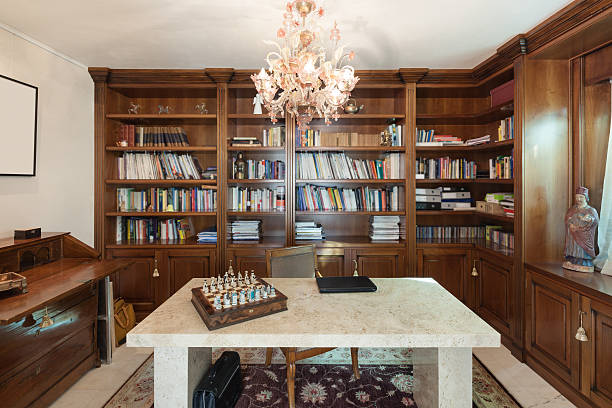 Source: Unsplash 
It is one of the top modern home office ideas for 2021. Do you have a personal library? If so, there is no better place for your home office. Using bold colors and artistic patterns, you can add dynamism to the space.
A simple splash of green will keep your home office looking lively and fresh. You can also choose air-purifying plants to keep allergens and stale air at bay. However, ensure that this home office background does not include any busy rooms or sections.
Tips for Library Home Office Setup
Lighting:

Lighting will be critical in this home office design. As a result, ensure that you have excellent lighting arrangements, such as chandeliers and large lamps.

Color contrast: Bright colors like orange, red, and turquoise will make your home office stand out.

Add some personality:

Add drama with abstract paintings, vases, and other antiques.
The Office in the Closet
Even the smallest of your living spaces can be transformed into makeshift offices. With this closet work-from-home station concept, an unused closet can be converted into a small office space.
The best part is that no renovations are required for this home office design. The closet slabs will serve as your work desk and storage shelves. When you've finished your work, you can close your home office.
Tips for Closet Office 
Lighting

: Purchase a high-quality reading or table lamp for your home office. You can keep the colors neutral or add a splash of color.

Clutter-free:

If you can keep the area clutter-free, the closet office can become one of the best small home office ideas.

Upgrades to Utilities:

You can also look online for some home office upgrades to use in your closet office.
The Couple's Workplace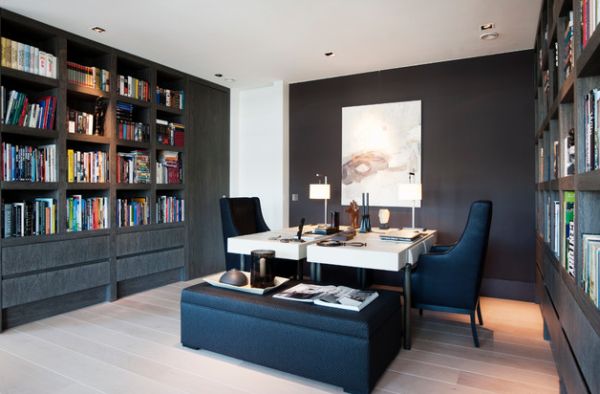 ​​
Aka The Bohemian office. This design is ideal for couples who want to share a home office. It's bright and charming without being distracting. These home offices work best in larger homes. Professionals frequently overburdened with journals, catalogs, and business cards should opt for something like this.
Tips for Creating a Bohemian Home Office
Greens:

Add lots of greenery to your office space to inspire creativity. Home plants and herb racks will turn this space into a green paradise.

Moodboards:

One wall should be reserved solely for mood boards. It is a fantastic way to improve your mood and productivity.

Play with Tone:

The best part about this home office is that you can experiment with different tones without having to add pops of color.
With more companies offering more flexible working arrangements, a home office is no longer a luxury but a necessity. Did any of these home office ideas pique your interest? We sure hope some did.