France is the oldest and most prominent country in Europe. It ranks top and boasts fine art, cuisines, fashion, language, and culture. And for this, statistics show that it's been the most visited country for the last 20 years.
It is one of the most romantic countries in the world, made up of beautiful locations and breathtaking architecture. It is fondly called L'Hexagone because of its unique six-sided shape.
Each city comes with its peculiar character and experience for the tourists. Paris and Versailles are must-visits and are highly recommended as top tourist places.
If you plan to visit this fascinating and diversified country, check out this list of the top 20 places to visit in France to make your holiday worthwhile. Feel free to add the ones you like to your itinerary.
Paris:
This is the most famous capital city of France. It is reckoned with rich culture and luxury.
It is considered one of the most romantic cities in the world, and in it are stunning landmarks such as; The Eiffel Tower, the Musée de Louvre, and Arc de Triomphe. Scenic landscapes that will leave you in awe spread over the city. Paris is undisputedly the best destination for a romantic getaway.
One pro tip is to hire a trained local guide so you don't miss out on anything.
The French Lavender field:
As much as France is known for its structures and well-designed architecture, it also offers a natural ambience for tourists who enjoy nature's scenery.
The French Lavender field has the brightness of the Mediterranean sunshine most of the year, compared to the grey skies of Paris and Northern France. This rural part is unaffected by the urban world and has a safe earthy appeal.
It's amazing how tourists troop in to see the bloom as it lights up the region. It would make a great view when photographed. Painters also draw inspiration to create vibrant works of art.
The French Alps:
The French Alps lay between France and Switzerland. It is like a mountain range, and on it, a lot of fun activities enjoyed by tourists can be done. 
In winter, skiing can be done on the snow-capped mountain, and hiking during summer. From the mount top, the view is spectacular. Mont Blanc, located at the France-Italian border, has a striking landscape. Experts have noted that gazing at beautiful space will give a soothing feel. The French Alps are highly recommended.
Also read: how to beat boredom on a long flight
The Mont Saint Michel in Normandy:
The island of Saint Michael is recorded as one of France's most visited sites. It is the highlight of the Normandy region. Mont Saint Michel ranks number one on the long list of Normandy Travel Destinations. 
Millions of tourists arrive at their destination yearly, and no bad reviews have been reported. Visiting Mont Saint Michel gives a spirit-lifting encounter. The island includes several churches, chapels, and medieval buildings surrounding it. It is beautiful and holds historical significance. If you're visiting, here are some places to stay you can check out.
French Rivieria (Côte d' Azure):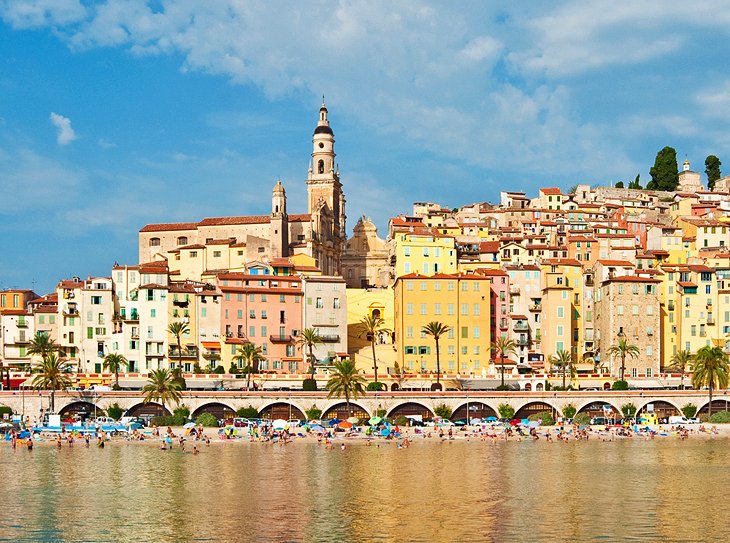 You're talking about the French Riviera when talking about lovely coasts, beautiful beaches, olive groves, and deep azure-blue coats. But, of course, the sky is always blue, too, due to the sunny weather of the Mediterranean region.
There is a more relaxing, milder, and quieter atmosphere in spring and autumn. It is located in southern France and has an enchanting view. Some adorable hilly landscapes can also be seen along the coastline.
The French Rivieria is amidst cities. Nice is the place for a good life, art- museum and palm-fringed boulevards. Other towns are; Cannes, Monaco, Saint Tropez, and Antibes. This is why many French people and tourists enjoy being around the French Riviera. You shouldn't miss out on the beautiful experience too.
Versailles:
Château de Versailles is just a short train ride from Paris. It is a palace built for Louis XIV, the Sun King. The architecture is an attestation to the glory of the French Monarch.
The dazzling hall of mirrors and the fountain-adorned garden leave visitors in awe as they try to envision the times of the palace (that have been bygone). Tourists also find the Hamlet of the last Queen captivating. Le Hamien de la Raine was a village the Queen built and beautified to escape court life.
The Châteaux of the Loire Valley:
Just like in fairy tales, castles are distributed around the region. Castles, for all purposes, portray rich cultural heritage. In the past, Kings met here for country treats, entertainment, and enjoyment.
Noble frenchmen and elites built state-of-the-art structures here, with a water-filled moat. For families with kids, there were kid castles designed especially for them. Tourists find this place attractive and you can bet it will be a memorable holiday.
Also read: 17 Tasty foods around the world you must try
Chartres Cathedral:
It is medieval architecture, yet attractive enough to get tourists to look in awe. If all you need to visit is a Cathedral, don't miss out on Chartres Cathedral.
This magnificent monument dates back to the 12th and 13th centuries but is still well preserved. Tourists are astounded by the decoration, the spirals, the glass window, and everything that gives the Cathedral a supernatural feel. During summertime, the Cathedral hosts a festival with a performance of sacred music every Sunday afternoon. This should be your destination as a music lover and a tourist to France.
Monument of Joan of Arc, in Chinon, Rouen, and Orleans.
Joan of Arc is the nation's heroine because she led the country to victory, at age seventeen, during the Hundred years' war. She is recognized in Chinon because she helped the Dauphin form an army and released them from the siege of Orleans. And in gratitude and honour, the statue of Joan of Arc is mounted as a patriotic, heroic military leader.
Joan also stopped by Orleans to save them from the siege of 1429. After defeating the English army, Joan came to pray at the Cathedral. And on the windows of this Cathedral, Joan's work and history are recounted. Tourists can also learn more about Joan of Arc in various places at Rouen. Joan was tortured, accused of heresy, and martyred here. After this, she became recognized as a saint by the Catholic Church.
Rouen also has a museum dedicated to Joan of Arc. The museum is richly equipped with Joan's story and is told with evocative videos to make it even more thrilling. Visiting these places as a tourist will make you aware, enlightened with history, and entertained.
Walled Medieval City of Carcassonne:
Carcassonne is picture-perfect, giving the looks of a fortified Disney castle. The quality of the fences makes it one of the world's best-preserved medieval towns.
Tourists can step into this medieval fortress at any time and glimpse what the middle ages were like. Wandering through the maze will discover other wonderful sites, restaurants, and monuments.
Lourdes:
This is France's biggest Catholic Pilgrimage site, located at the foot of the Pyrenees mountains. Millions of people come to Lourdes every year for spiritual inspiration; they also get drawn by the beautiful architecture. The candlelight procession of the faithful is a breathtaking sight to behold.
Gourmet restaurants in Lyon:
For tourists with a taste and hunger for good things, Lyon is the best bet for palatable cuisines. Tourists can choose from a wide list of restaurants located in Lyon. But for casual dining, Bouchons Lyonnais is highly recommended. It allows visitors to enjoy the cuisine and the inviting, cosy atmosphere.
Besides its top ranking in cuisines, Lyon is also known for its cultural heritage. For example, Lyon's museum contains outstanding European paintings from the 14th – 20th centuries.
The Camargue:
Just 16 kilometres from Arles in Provence, the Camargue is a place where visitors can breathe fresh air and enjoy the soothing view.
Meadows, marshlands, and pastures mainly characterize it. On it are over 300 species of birds which makes it suitable for bird-watching.
The Island of Corsica:
The island of Corsica is beautiful, with eye-catching topography, untainted forest, and mountains masked in snow. Beaches, fishing ports, and a lively seaside also encircle it. The hillside is made up of villages where there's peace.
The clear waters make it more alluring for snorkelling and scuba diving.
Conclusion:
Although Paris is the most popular top place in France, other cities have amazing sites. This article further confirms that France is a go-to place for beginner tourists. With its delicious cuisine, fascinating culture, and gorgeous countryside, you should visit France at least once in a lifetime.